Waiting on Wordle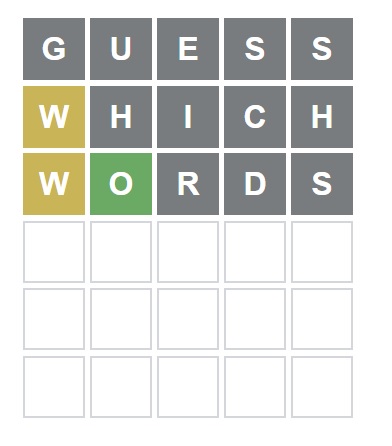 Just like that daily cup of coffee or routine scroll through social media, Wordle has become a habit for many teens and adults alike. 
The word game has English languagelovers, challenge seekers, and the witty minded addicted. Now owned by the New York Times, the word game's objective is to guess a unique 5 letter word in 6 tries. 
"A student saw me doing a crossword puzzle and introduced me to it on the Times website […]. Having people talk about it and seeing it on social media makes [me] want to do it," said IB Language & Literature teacher Dr. Philip Cicione. 
The constant buzz around the game has reeled people into playing nearly every day, especially with how its set up to have only one unique word for all it's players to guess, which changes once a day. 
"I heard about Wordle in history class about a month and a half ago. Someone told me to try it and I was able to get it on my second try. I've been doing it ever since," said senior Ryan S.
Some Commack students shared where Wordle fits in within their busy lives. 
"I usually do it whenever I remember, whether that's 12 AM right after it resets or after school when I have some free time," said senior Shreya S.
Others find time during the school day to get the day's puzzle done.
"I do it after school depending on the day, but typically I do it first period every day," said Ryan S.
With Wordle being the same for every player, one has to avoid spoilers.
"[I attempt it] halfway through the day around 7th period to keep his streak. […] I try to ignore people who blurt out the word and walk away when I see people doing it in order to have the mystery of the word avoid being spoiled for me," said Cicione.
The game has appeal to those already fans of word games. 
"[I am] good at guessing, having been an avid crossword player. I like the ability to engage in higher level thinking games," said Cicione.
Others enjoy the gratifying experience the game provides.
"It is fun and rewarding especially since it does not take me long to do," said Shreya S.
The game also provides students with a way learn at the same time as having fun. This short mind game allows students and teachers alike to enjoy themselves.
"I like playing it because it gives me something to do and indirectly expands my vocabulary, particularly when there's less known words like 'caulk,'" said senior Giuliana M.
Experienced players have preferred starting words and strategies.  
Senior Giuliana M. shared that her favorite starting word is 'later.' Seniors like Shreya S. and Ryan S. start with whatever comes first to their mind, but have used words like 'block' and 'patio.' Cicione switches between the words 'house,' 'aisle,' and 'porch.' He prefers them because of how many vowels they include. 
Wordle has taken the Commack Community by storm. The game can be accessed daily at https://www.nytimes.com/games/wordle/index.html 🔳