SENIOR FAREWELL 2021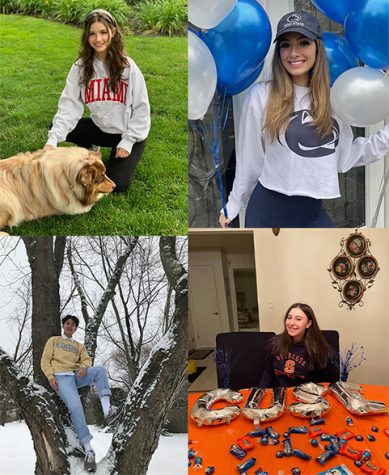 Ellie F. 
Attending Syracuse University
I joined The Courant not knowing what to expect. In my English classes, I was always told my exact assignment and what to write about. Being a part of the newspaper staff,  I felt so free, being able to create and execute my own ideas about topics I was truly interested in. Writing for The Courant has taught me how to ask important questions when interviewing people and has fostered a love for journalism. In addition to growing as a writer, I was able to explore another passion of mine when I became the photography editor in 10th grade. 
My fondest memory of being on newspaper was when we delivered all the papers to each classroom. I felt so excited to hand people my accomplished work. I loved being able to collaborate with two close friends, Anastasia H. and Jessica B., on different articles as well. The Courant has made the three of us so much closer as we shared articles many times and helped each other improve our writing skills. 
The Courant also made me a more attentive person. One of my favorite sections in the newspaper was "Overheards."  I remember walking down the halls always trying to catch a good line to put in because I loved reading that part myself. 
The newspaper has inspired me to really appreciate writing in a whole new way and gave me a second home. The Courant suite was always enjoyable to visit whether I was revising articles, stealing a piece of candy, or having a meeting. I loved being able to have an escape from the school's halls. I would 100% encourage anyone who is interested to join The Courant, even if you don't feel like you are the best writer. Being on The Courant was a huge part of my high school experience that I will never forget. 🔳