SENIOR FAREWELL 2021
Stefanie S., News Editor
June 16, 2021
By Stefanie S., News Editor 
Attending Miami University (OH)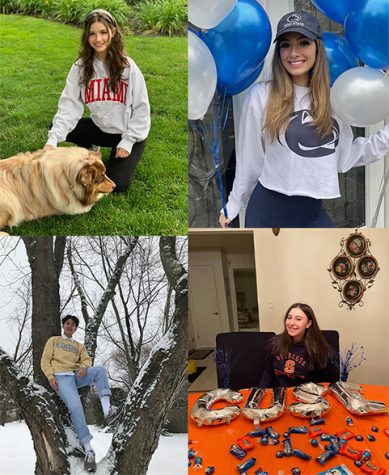 Growing up as the youngest in a large family, high school always seemed so far away—so distant, nearly unreachable to me. Now, as I write this farewell letter, I realize just how quickly time passes, and just how much I have changed since I was a freshman. 
I came into high school somewhat meek and soft-spoken, though not completely shy. As I leave high school, I am much more confident within myself and find it easier to strike up conversation with others. There were ups and downs to high school, highs and lows, just as everyone experiences. It is not the late-night cramming or nail-biting worry before a test that I will remember Commack High School for, however.
From the giggling with friends during lunch periods, to the solidarity with fellow classmates even if I've barely spoken to them before, the conversations with teachers that made me ten minutes late to my next class, and the mistakes I grew and learnt from. These small, minute details built up over the four years, cementing my core memories at CHS. The blue, red, pink, and brown halls of this high school watched me as I grew to the person I am today, walking the same halls these couple final times.  
I have been set in my future career since eighth grade, when I saw the movie Fantastic Beasts and Where to Find Them and realized I wanted to be a zoologist. It took me another two years to decide I also wanted to study literature, in some capacity. In tenth grade I joined The Courant, wanting to explore various paths in writing and was influenced by Mrs. Semple, my ninth grade English teacher. It surprised me a bit how much I enjoyed participating in The Courant. 
The newspaper allowed me to work on my professional skills by contacting a variety of people, from employees at the Guide Dog Foundation to medical professionals and so many more. Interviewing these people allowed me to become more sure of myself, and hold myself better in certain settings. These experiences aided me in conversing more easily with various people I may meet, and each person I talked to taught me something new. 
My high school experience would never have been what it was without the support of my friends and the faculty at CHS. Thank you to all of my teachers who taught me more than I could have ever imagined, both inside and outside of the subject matter. Thank you to Mr. Dineen, Mr. Desmond, and Mr. Marusevich who fueled my passion for literature and writing. Thank you to Mr. Tine for guiding me in figuring out my future career in zoology and teaching me an incredible amount, both about marine life and an abundance of other things; your class truly solidified what I wanted to pursue and I enjoyed every moment of it. Thank you to Mrs. Revera and Cause Four Paws, who allowed me to help animals and people alike and in turn helped me with my leadership skills. Finally, thank you to Mrs. Semple, who has helped and taught me so much throughout my four years at Commack High School. 
Though I will soon be moving to Ohio for the next four years or so of my life, I will never forget Commack High School and the people I met there, who have helped me become who I am today. I will always cherish the memories I have made here.🔳