Varsity Views
The students of Commack High School were ecstatic to hear that they were able to play sports this year. Has that feeling remained the same, or were athletes disappointed in the changes within their season?
Two varsity seniors, Nicholas A., football quarterback, and Aidan R., volleyball libero, share their thoughts on how their seasons went.
The boys volleyball team was preparing for their senior game when they found out there was a player on the team that tested positive for Covid. Disappointingly, they could not make it to the playoffs and enjoy their senior game.
"I'm glad I was able to play my last year with my best friends that I have been playing with since 7th grade. I was devastated that Covid struck again and abruptly ended one of our best seasons," said senior Aidan R.
Now looking back, he wants to focus on the positive things that happened during their season.
"I'm happy and grateful that I was even able to play volleyball during such an unpredictable year," said Aidan R.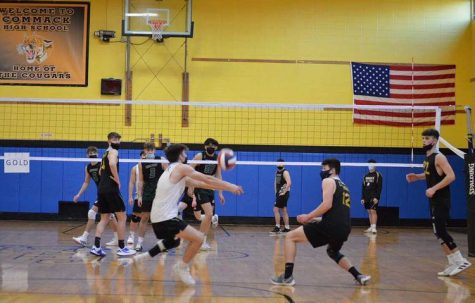 Nick A. felt the same way about the football season.
When it was announced in the fall that the football season was cancelled, the team was devastated. So, when New York State authorities said it was back on in the winter, the team was "really happy to get the opportunity to play," said senior Nick A.
However, the team struggled with the unique circumstances in the beginning.
"At first the season was shaky. The team was distracted due to their anxiety about whether they were going to have to quarantine," said Nick A.
This affected their game at the start of the season because that thought was always in the back of their minds. Luckily, as the season progressed, they were able to focus back on what they love, which is the game of football, and began winning most of their games.
"I am extremely grateful that we were able to have a season. It helped all the players in different ways. I think it helped many people showcase their skills to various coaches, and immensely helped the seniors prepare for their college seasons," said Nick.
Sports are something that everyone in Commack appreciates and Commack students really support one another whether you are on or off the field. Even though this year was extremely challenging and frustrating for many sports players, it seems that the athletes are happy to make the best of the season that they got to play.🔳